Previously, I mentioned my plans for my bedroom redo, and the hopes I had for a lovely and safe new bed for my little one who thinks he is a stunt man already.
I am pleased to say the bedroom plans are well underway and yesterday, the UPS driver delivered a long awaited package to our home....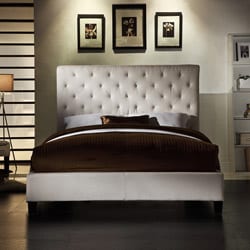 We ordered this bed from overstock.com and I feel like a little girl at Christmas. I have about 5 projects both decorative improvements and decorative for parties going on in addition to school, the kids are out for the summer and are ready to do things. For the next week or so, my lovely bed will remain in its box in the garage.
I am working on the curtain panels next week, the photo of the fabric online did not do this lovely pattern justice...
I bought more than enough fabric when it was on sale at fabric.com; I have enough for accent pillows which I plan to use on the bed and bench in different sizes.
I did a little cleaning in my garage over the weekend and came across never opened sheer panels in ivory... what luck? I had forgotten even purchasing them. No need to hit the store for the sheers to compliment the curtains similar to these, I was thrilled!
I have my lovely lanterns to add to the nightstands,
The clearance globe to compliment the colors I am working on,
A while back, I got a steal in the Home Fabrics store, looking for a floral pattern in ivory and blue, I came across this fabric for .99 cents a yard, I bought all they had left 4 3/4 yards so for less than 5.00 I have enough to make some decorative pillows after I cover my bedroom bench.
The best most awaited piece to be completed in my room is my lovely secretary I got at Salvation Army last September, it has literally taken me this long to work up the nerve to paint the desk. I have been taking my time, moving at a snails pace to revamp the old girl and hopefully go from this
to something along the lines of this...
btw, thank goodness for blogs- this post helped my confidence sooo much!
Now for the reason I cannot do my happy dance just yet... I have been too busy to focus on one project to it's completion! I am having attention deficit moments, I start then put on hold for a couple days then start something else and the vicious cycle continues... I really need to get it all done soon however, the happy dance is itching to come out so I will be a busy woman over the next week or two!
Wish me luck! On a really happy note, my wall gallery along the staircase is really looking good if I do say so myself, I may do a work in progress post, as the gallery has taken on a life of it's own and is larger than I thought but I love it!
Have a great day everyone!