During my visit to Northern California, deciding on where to go shopping and trying to fit in all the places we love to look for deals became a focal point of interest for Katrina and I after Avery's adorable 1st Birthday party. We decided to pop in Goodwill (Sunday) and we were not disappointed. Katrina found some long sought after Pyrex bowls and I found a piece I have wanted for ages.... a classic Soup Tureen.
Here are some images of pieces I have checked pricing on but could never commit to purchase-
Wedgwood Nantucket Basket China - 88-oz. Soup Tureen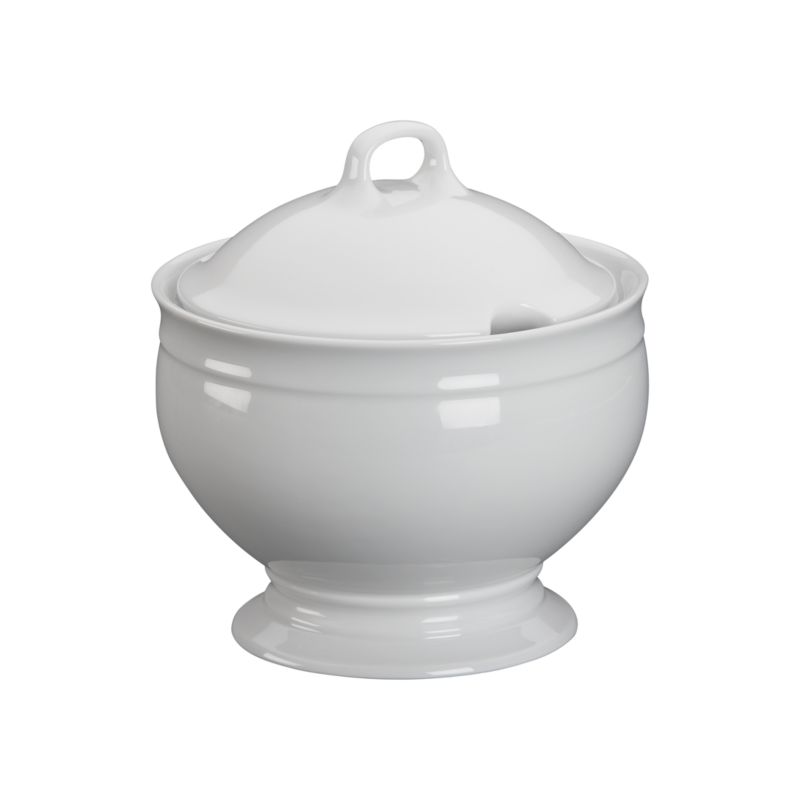 Footed Soup Tureen $39.95 via
Here is what I found at Goodwill for a mere 14.99! I couldn't believe my good fortune! This is just like a tureen I saw in House Beautiful that I could not afford!! I love the scalloped detail and the delicate presentation of the tureen.
(please excuse the dusty secretary, I am pleased to say I have worked up the nerve to paint it and will be done soon)
A trip to Crate and Barrel was worth the wait (Katrina and I attempted to shop there on Saturday evening and arrived as they were closing) as I lucked up on this ceramic ladle for 6.95 to compliment my new piece!


I was so thrilled to find both pieces, I literally squealed when I saw the tureen sitting on the shelf, Katrina and I both found long sought after items for our collections.
I saw these precious little gems almost right beside my tureen while in Goodwill. These will be a cute compliment to my buffet when I have my brunch.
At 99 cents each, they were a very good deal!
A trip to Target not far from Katrina's house proved very beneficial for my bedroom which is currently under remodel.
Katrina and I were browsing the wares in Pottery Barn on Saturday evening, I shared
with her my longing for a petite classic globe and to my delight, there were two different styles in a price mark down section! Well... Katrina talked me out of one of the globes, the price was still a little high, boy am I glad she did. In the 50% off home decor section at Target, I found this lovely piece and the price was over 10.00 less than the one I admired just the night before.
These lanterns will make a lovely compliment to the bedroom, I picked up one for each nightstand, they were less than 7.00 each! One of the first things I did after coming home from my trip, was unwrap my lanterns and put candles in them.
I think I did pretty well shopping and the best part was sharing the fun with a great friend.
Have you found any steals on items you've wanted lately?