I just had to show the pictures of what this post is all about first, I am so totally excited about this find!
and
I decided to go into the JCPenney outlet on March 1st, mainly because I was very determined to let someone in management know that I was totally dissatisfied with the way my phone call was handled early that morning. I called to inquire about a bed, not just any bed but a linen oatmeal fabric upholstered headboard, demi footboard and side boards. I will admit my anxiety may have the better of me right about now with the whole bed search because Ikea discontinued my bed I had been drooling over for one year plus literally the DAY BEFORE I decided to hop in my car and buy one... I could have driven over two hours to purchase one... but with gas at 4.40 per gallon here in my neck of the woods, I just surrendered to loss with the bed. I was sick to my stomach... wait, I am getting off track here!
Ok - rant over LOL! So I go in to JCPenney furniture outlet with a purpose... to make some stink about the terrible service I received on the phone. Keep in mind, I am only going on a friends opinion of the bed after I had mentioned to her what it was I was looking for (and cried a little about the bed from Ikea - do you know they STILL show a commercial with the bed in it??? Like why are you taunting me... ok! I am getting off track again - deep sigh) a friend (the same friend who told me about the KitchenAid) sent me a photo of the bed on my phone and told me the price, but I could make out the word Addison on the tag; can you believe the person on the other end of the phone STILL pretended she had absolutely no idea what I was talking about... even after I gave her the name of the product???
(I know right??? so frustrating)
Well I waited all day until I was ready to head west for travels to pick my daughter up and casually walked right in to the store, right to the bed display and guess what was looking me straight in the face- You've got it ... THE ADDISON BED! I was irritated and relieved all at the same time. The bed is lovely, I really love it.
(Image courtesy of wayfair.com)
I am torn between this style for my bedroom and this lovely style I found on o.co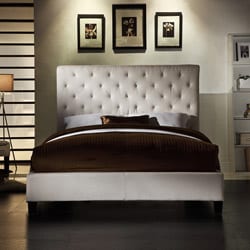 As I was walking out... I saw a display with two different types of dresser mirrors being sold for 20.00 each and let me tell you, these are large mirrors! I thought to myself, "you need a mirror for the master bedroom, and at 20.00 - you could pretty much do whatever you wanted to the frame and not feel bad about it!


Today turned out to be a really good day - I scored a beautiful mirror, purchased the fabric for my curtain panels and I have decided on the bed that I will put in my bedroom very soon since I have the fabric, I have decided the mirror will be painted cornflower blue. I mentioned in a post some time back that the state of my master bedroom is just offensive, no spice, sparkle or sassy anywhere in the bedroom but shortly ... this will change. If any of you are able to stop in a JCPenney outlet, do you normally walk away pleased?


by the way - I went with the second mirror ... you will see the room starting to come together very soon!